Kurz Access Foundation v Londýně (in London-Croydon)
Datum / čas
29/02/2020 - 03/03/2020
9.00 - 18.00
mapa není k dispozici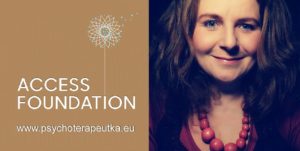 Access Foundation with Mgr. et Mgr. Umay Yamuna Wolf, CF psychologist with 20 years praxis with clients which includes in her classes experiences with many clients she had before, goes totally beyond this reality.
Umay is not only psychologist who got two Master degrees at Charles University in Prague, but First Certified facilitator of Access Consciousness® in Czech republic.
This will be her 11. class Access Foundation 4th in English language.
Class will be in English, manual will be avaliable in English for you for free, if you want manual in other languages, there is extra charge 25 euos per each manual in other language.
In class with Umay you will get what you will not get anywhere else.
Have you passed Basic class Access Bars® and do you perceive big changes in your life? Do you wanna more of this?
Are you Bars Facilitator and would like to renew your licence?
Do you desire to choose advanced classes with the founder of Access consciousness® Gary Douglas or Dr. Dain Heer and you know that prereq. is Access Foundation class?
What if now is the time to choose yourself, have more options and choices to live your all potential?
Are you ready to deeply clear all your topics conected to relationships, family, children, health and abundance and money, all your talents, all your life…?
Do you have many questions and no clearity?
Are you aware of something and do not know what to do about it?
Do you wanna be more contributing to your life, your business, your closed ones and all Planet?
Right for you is Access Foundation great choice!
Will you choose it? Is it yami for you?
All questions are welcomed in this class.
All people are welcomed in this class.
Children have this class till 16 year old for free if they come with paying adult.
Teens from 16 to 17 years old have class for half price. Half price is for repeating the class till 12months from last class.
Access Foundation will show you the way how to change everything in your life with ease, joy and glory.
Umay will give you many tools to release all your limitations during this class. Foundation is really foundation as basement of unlimitless possibilities for creating your life which you desire.
Is it joy? Is it abundance? Is it health? Are these happy relationships? is it enjoyable creation? What do you desire?
Are you ready to CHOOSE IT?
Are you ready TO CHANGE IT ALL?
Please come first day at 9am because of registration.
For more information write to Sarah-Julie Andrew
sarah-julie@inspireprmedia.com
Prereq.: Basic class Access Bars®
Price: 1400 Euro – repeating price till 12 months from last class is 50% from price
Registration and question: Umay@centrum.cz
I am looking forward all conscioussness choosing beings
Mgr. et Mgr. Umay Yamuna Wolf, CF, CFMW, SIYI, AHP, AFF, BPF, BF
#accessbarsclass
#london
#happylondon
#uk
#accessbars
#accessconsciousness
#umayyamunawolf
#psychoterapeutkaeu
#classaccessbars
#english
#foundation
#accessfoundation